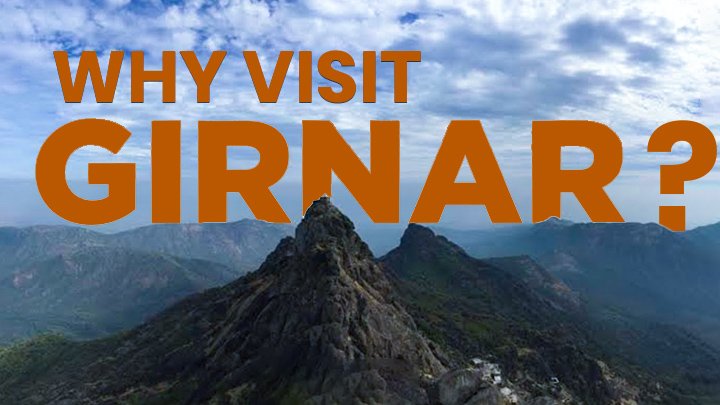 The reasons to visit Girnar are numerous. Of course, if you are religious, this is a must place to visit. Girnar has 866 Hindus and Jains temple. The temples like Ambaji, Guru Dattatreya, Gorakhnath are the most visited temples by pilgrims. If you are a climber, the Girnar will attract you most. The highest peak is 3666 feet. One needs to climb 10000 steps to reach that height. It is suggested that one should start early morning to get the best views of the height. The total time needed to reach the top is between 3 to 4 hours depending upon the individual's capacity. It will surely test your stamina. The main stairway at Girnar starts at about 168 m above sea level and climbs to Gorakhnath Peak (1117 m), the highest point in Gujarat, before descending to Kamandal Kund (about 954 m) and again ascending to, and ending at, Dattatrey Peak (1066 m). The highest peak in Gujarat, the Girnar is older than the Himalayas. If you follow Jainism, this place also interests you. You will find the most ancient Jain temples in the country.
The scenic beauty you will witness after reaching the height. Some scientific research says that these visit these mountains are glorious extinct volcano peaks. Not only is this, amidst the lush green Gir forest area, but this mountain range also serves as the main center of religious activities for Hindus, Jains as well as Buddhists. The journey to the top is tiring as the usual long pass crossing days of Himalayas and maybe much more than that. Especially once we complete 1/3rd of the hike, the sign of greenery goes away from the mountain owing to its rocky structure and hence it starts feeling even more tiring. But this tiring journey will not be a prominent feature any more in the future, The Girnar Ropeway will be going to operational soon. The work is in full swing and is set to be launched in the year 2020. The pilgrims who would like to seek blessings of Ma Ambaji temple at Girnar will benefit the most as the ropeway will connect the base with ma Amba temple.
Girnar is only 4 Km east of the city of Junagarh and hence is nicely connected with the rest of India. Rajkot is the nearest airport as well as a railway station. Road transportation is good hence you may take public transport to reach Girnar from Rajkot or hire a taxi as well. The nearest railway station is Junagarh itself which is well connected with major cities of Gujarat.