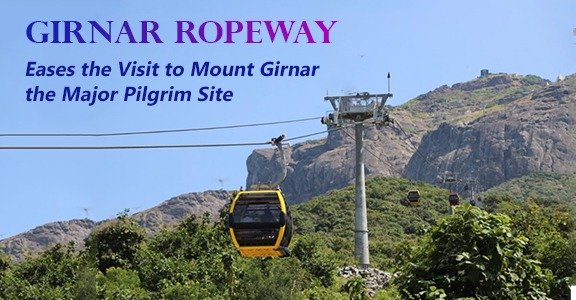 Girnar Ropeway eases the Visit to Mount Girnar the Major Pilgrim Site
India is a country of many religions and such diversity of beliefs is a unique identity of our country. Most people in India are Hindu and are religious at heart. It is worth admiration that they keep faith in all the religions and have respect for people from religions other than Hinduism. As a result of this faith and respect, Indian people keep travelling to holy places, regardless of obstacles like distance, weather, complexity, height, depth, etc.
The above facts get particularly witnessed at the world famous mountain in Gujarat named Mount Girnar. This mountain has long been a centre of attraction for the pilgrims and they have been coming here from almost all parts of the country. Actually, visiting Girnar is like a dream for the theists because the mountain embraces not only Hindu temples but Jain temples as well.
As a result, Girnar holds incredible consequence from spiritual point of view and which is the operation of Girnar Ropeway is a welcome start for the devotees coming from all over the world.
Why Mount Girnar is religiously prevalent for Hindus?
As mentioned above, Girnar situates in the state of Gujarat, in Junagarh District. For a long time, people have heard parables associated with the temples located at Mount Girnar. These parables have religious messages which bolster the faith of the people in their beloved deities.
This prevalence is doubly impactful because of the presence of various Hindu and Jain Temples here. An ancient temple of Guru Dattatreya situates on this mountain and since prehistoric times, people have been climbing the 9,999 step stone-staircase to reach the temple. Guru Dattatreya's Paaduka, the divine footwear of Lord Dattatreya, are held at the Girnar Hill and that makes this place sacred and religiously prevalent.
Similarly, the mountain comprises the renowned Amba Temple, the place of worship of the devotees of Goddess Amba. Another place of religious importance here is the Gorakshnath Temple. Girnar Ropeway has made it possible for the devotees of all ages to pay homage at these temples.
Why Mount Girnar is religiously prevalent for Jainis?
The same mountain holds remarkable religious significance for the followers of Jainism. Just as it is Mount Girnar for Hindus, it is Mount Neminath for Jainis. It is well known that followers of Jainism are branched into two sections – Digambars and Shwetambars. Interestingly, the mountain has sacred places of visit for both.
Tirthankara Neminath Temple, Mallinath Temple, Baghwan Parshwanath Temple, Rishabhadev Temple, etc are the shrines where Jainism followers visit and worship.
Again, Girnar Ropeway has helped in strengthening the bond of worshippers with their Jain deities as they can easily reach here.
Conclusion:
It does not require any mention that Mount Girnar is a major pilgrim site now. But earlier, geographical barriers prevented many people, particularly the elderly devotees and those who are physically disabled, from getting a sight of their deities. The start of Girnar Ropeway has eliminated all types of roadblocks and made it possible for all types of worshippers to visit the holy places located at Mount Girnar.