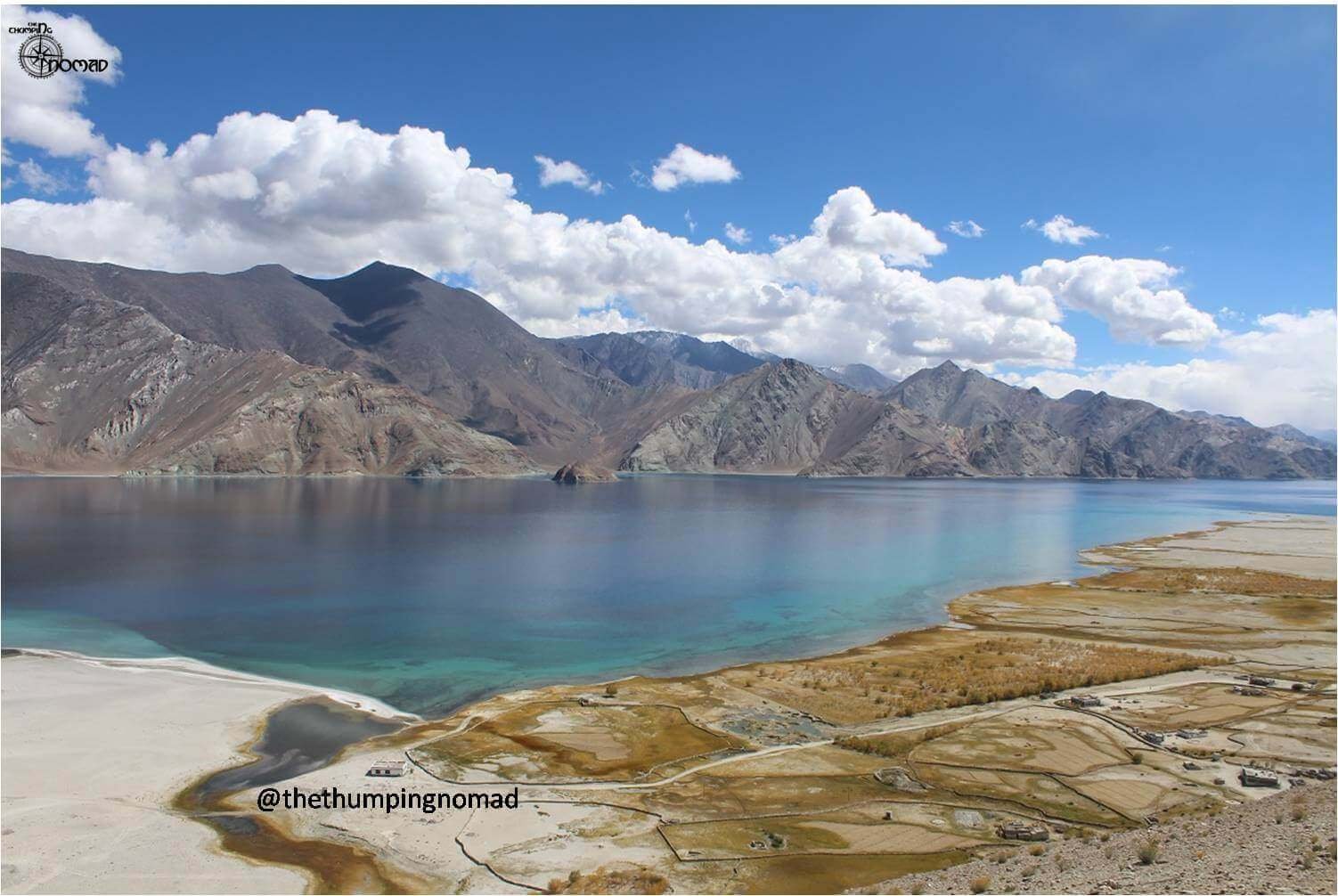 Pangong Lake: A Travel Guide(With Photos)
Pangong Tso or Pangong Lake has been on countless people's bucket list and needs no introduction, especially after the popular Bollywood films like 3 Idiots and Jab Tak Hai Jaan hit the screens. Pangong – this word itself evokes a serene image of a pristine lake with vibrant blue hues, reflecting the sky atop dotted with cottony white clouds, nestled amidst barren yet striking mountains.
I am sure those who have already witnessed the allure of this natural spectacle would agree that the actuality of it is much more phenomenal compared to any pictures or videos one might have seen.
Situated at the altitude of about 4,350 m, Pangong is a 134 km long trans-frontier lake that stretches from India to Tibet (now China), with two-thirds of it in China.
Why is the water Blue and Salty?
Salts of the ocean originate from the Rocks. So, lakes without Drainage Rivers to ocean ends up salty because there is no way out for the salt.
[Pangong Tso Salty Water]
Due to this reason, the water of Pangong lake is salty and the Color is blue. With the nearness of the sun in the Morning, Afternoon and Evening, the different Shades of blue are obvious and consequently, the lake looks vivid.
Lake's wondrous colour play with its water throughout the day is one of the most remarkable features. One can witness the shades ranging from azure to indigo to light blue to green and at times, even grey!
[Pangong Tso Blue Water]
Despite being formed of saline water, the lake freezes entirely resembling a turquoise sheet in winters and turns the landscape into a snowy extravaganza.
Getting to there from Leh
The extremely picturesque, 160-km journey from Leh to Pangong lake can be covered roughly within 5 to 6 hours. One can also explore other attractions along the way like Hemis Monastery, Shey Monastery and Chang La pass (3rd highest motor-able road in the World).
source: https://en.wikipedia.org/wiki/Pangong_Tso
Buses by the state road transport corporation are available but the most preferred mode is hiring taxis, motorbikes or cars from Leh. While most people keep this as a day trip, it might not be the most ideal thing to do. If you are not pressed for time, stay a night to abundantly experience Pangong.
Note – Ensure to carry ample fuel since there are no petrol pumps around this region.
Route 1: Leh-Karu-Sakti-Chang La-Durbuk-Tangtse-Lukung-Spangmik(Pangong Lake)
Route 2: The other route is via Shyok if you want to go directly to Pangong from Nubra Valley which actually saves a day. But do check if roads are open on that route especially in the month of July and August.
Route : Hunder-Diskit-Khalsar-Agham-Shyok Village-Durbuk-Tangtse-Lukung-Spangmik-Man-Merak
ALSO READ: A journey from Manali to Leh
Nearby Hotels and Camps
The best place to stay is in the tents on the lake's shore. Another alternative option to get an authentic Ladakhi experience (and not burning a hole in your pocket!!) is a homestay in nearby villages like Tangste or Spangmik. However, if you wish to stay in a hotel, you can find some standard hotels with basic facilities in Tangste and Spangmik.
[Evening at Pangong Tso]
Best time to visit is the months of May to September. Since the region has pretty limited options to stay, remember to pre-book accommodation especially if you are travelling in the peak season.
Things to do
Pangong lake can rightly be described as a slice of heaven on Earth, so just sit back and let it cast its enchanting spell on you.
https://www.facebook.com/plugins/video.php?href=https%3A%2F%2Fwww.facebook.com%2Fthethumpingnomad%2Fvideos%2F2067206509957637%2F&show_text=1&width=269
[3-Idiots Point]
There is no call reception and believe me it's a blessing in disguise. Use this as an opportunity to seek some recluse.
Watch the sunrise and the sunset. Even if you aren't a morning person, make an effort and wake up to catch the sunrise, it is definitely worth it.
Camp on the shore of this splendid lake.
Stack some prayer stones and pray for some good fortune.
Spot the migratory birds like black-necked cranes and seagulls. A few lucky people can also spot a Kiang (a wild ass) or a Marmot (a native Ladakhi rodent that can grow up to the size of a small dog).
[Hourses at Pangong Lake]
Take some time out at night to look up at the canopy of twinkling stars above and spot your favourite constellations (or make up a few, who cares?).
For the photographers, this place is an absolute delight during the day and at night. Go bonkers capturing this sensational panorama in pictures, time lapses or videos. Once the night befalls, take extraordinary snapshots of the milky way! Even if you are no pro, don't hold back. Pangong is one of those rare places where even the randomly clicked shots will result in stunning photos.
Temperature and the Best time to visit
Winter in the Pangong region is very chilly, the temperature may go as low as -20°C. It's not recommended to visit during winter (Oct to Feb) as most of the time the lake will be frozen.
[Frozen Pangong Tso]
source: https://en.wikipedia.org/wiki/Pangong_Tso
The best time to visit this region is the summer time (Apr to Jun). The maximum temperature will be at around 15°C to 20°C during this time.
Monsoon is very sparse in this region, one may also visit during the monsoon time which is from July to September.
[Temperature Data across the year]
Responsible Tourism
Pangong lake is an ecological place and littering is a severe offence! Please be mindful and dispose of your garbage sensibly. If you can't find a place for disposal, kindly keep the trash in your bag until you locate a dustbin.
Be a responsible traveller and do all in your capacity to keep all the places you visit clean.