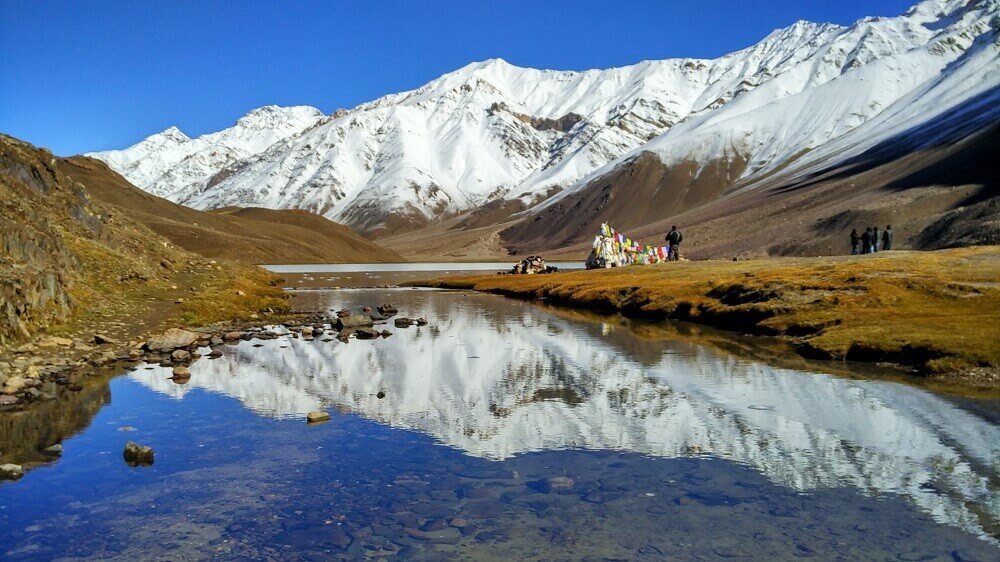 Lakes of Lahaul-Spiti like Chandra tal and Suraj tal (A Travel Guide)
Spiti valley is a cold desert mountain valley and it's having turquoise coloured rivers to some of the most beautiful High altitude lakes. This is a world, which has the harshest of winters, but home to warmest of people.
Chandra tal (Moon Lake):
Chandratal lake is the crown jewel in the beauty of Lahaul-Spiti. Chandra Tal or Moon Lake is situated in the Spiti part of the Lahul and Spiti district of Himachal Pradesh, India. The name of the lake originates from its crescent shape. It is situated at an altitude of about 4,300 metres (14,100 ft). It is located near Kunzum Pass. Chandratal is connected by motorable road from Batal which is around 14 Km away. The lake with crystal clear water and surrounded by snow-capped mountains make it an ideal destination for camping and trekking. Although camping is not allowed on the banks of the lake you can camp around 2-3 Kms from the lake. Camping near the lake with clear skies will be a lifetime experience.
[A beautiful view of Chandratal Lake]
Dhankar Lake:
Dhankar lake also known as Sar Kund Lake is situated at a height of 4136 meters (13570 feet) in Spiti Part of Lahaul-Spiti district of Himachal Pradesh. It is about an hour's hike from Dhankar Village. The lake is situated in middle of mountains. A lot of people consider it an easy hike but the climb can make you breathless within a few seconds so better go slow. The view from the lake is beautiful and you can even see far off mountains covered in snow. From here you can also get a wonderful view of Manirang Peak (6593 meters)– the highest peak of Himachal Pradesh lying on the border of Kinnaur and Spiti district.
It is forbidden to camp next to the lake as Dhankar lake acts as a source of water for Dhankar village.
[Calm and Cool Dhankar Lake]
Suraj Tal:
Suraj Tal is a high altitude lake in Lahaul-Spiti, Himachal Pradesh. Its name Suraj Tal is made up of two words, Suraj meaning sun, and taal meaning lake. This is the reason why it is revered as the lake of the Sun God. It lies just below the Bara-lacha-la pass at height of 4890metres. It is the third highest lake in India, and the 21st-highest in the world. Suraj Tal Lake is the source of Bhaga River which joins the Chandra River downstream at Tandi to form the Chandrabhaga River in Himachal Pradesh territory, and as it enters Jammu and Kashmir it is renamed as the Chenab River. The place is mostly uninhabited because of the climatic conditions that are akin to those in the Polar Regions. Snowfall, even though scanty, is reported throughout the year.
[A magnificent view of Suraj Tal]